Wandefloor Outwase is a raided floor system exclusively developed for outdoor areas and provides a stable and highly resistance ceramic surface. Panels are a set of porcelain tiles plus a special reinforcement applied on its backside that, increasing it only 2-3mm, provides this set of a very high resistance. This reinforcement is composed of a polymer base with a fibber glass mesh inserted therein. It's called STRONGCID..
Floor tiles are directly supported on W-PLOUT PVC pedestals, forming an adjustable on height framework.
In this raised floor system, joints are not sealed, allowing the water drainage and at the same time avoid water accumulation and post apparition of frozen slippery surfaces. This joint is longitudinal and continuous, determined by a small "nails" on the topside of each W-PLOUT that allows the correct placement of the panels.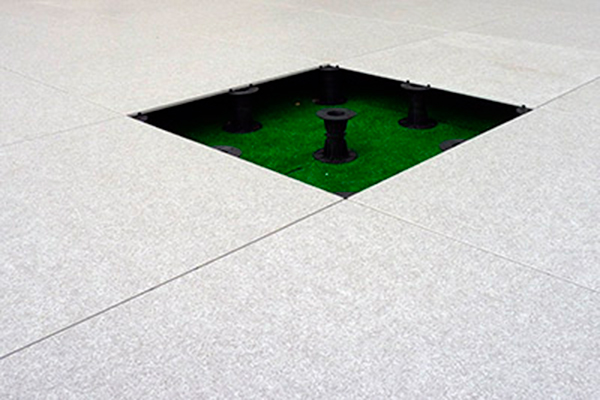 THE OUTWASE RAISED FLOOR SYSTEM IS COMPOSED BY
Porcelain tile rectified as a upper surface.
Strongcid Solution, to provide the necessary loading and impact resistance.
PVC W-PLOUT pedestal, adjustable height, which corrects unevenness of up to 3%.